Luzzu is Malta's 'Most Popular Child Friendly Restaurant'!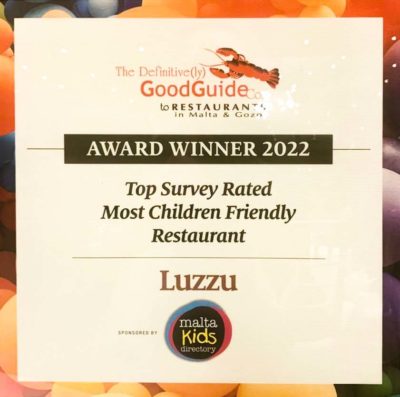 We're ecstatic to announce that Luzzu Restaurant has been named Malta's 'Most Popular Child Friendly Restaurant'!
During the 21st edition of The Definitive(ly) Good Guide Awards night earlier this month, Luzzu Restaurant in Qawra took home the title of the 'Most Popular Child Friendly Restaurant', winning out against tough competition in the hospitality industry.
The awards night took place at the Radisson, Golden Sands and representing Luzzu were General Manager Mr Joseph Vella, Assistant General Manager Mr Andreas Dullnigg, Assistant F&B Manager Mr Carl Mifsud, Outlet's Head Chef Mr Justin Ciappara, Events Manager Mr Karl Abela, Former Executive Head Chef Mr David Piscopo and Marketing Coordinator for Qawra Hotels Ms Emma Attard.
"I am proud of the entire team at Luzzu Restaurant who have worked tirelessly, especially throughout these turbulent times, to make the restaurant a safe space for all those who dine, especially the kids, said General Manager of AX Group's Qawra hotels, Mr Joseph Vella. "I'd like to thank all our patrons for choosing us this year and we look forward to another prosperous year ahead."
The Definitive(ly) Good Guide includes the top 150 survey-rated restaurants in Malta and Gozo. Awards were given on the night to the 40 highest-rated restaurants in the following categories: overall, food, service and ambience; while special awards, like the 'Most Popular Child Friendly Restaurant' were given to respective establishments.
Our restaurant by the coast is perfect for any gathering, be it a family lunch, special occasion or festive celebration. This Christmas, enjoy our Mediterranean cuisine with family on Christmas Day or New Year's Day or organise your annual festive gathering with us. With a lot on offer this holiday season, Luzzu is the perfect place to toast to memorable moments.
Know of anyone who'd love a meal by the coast? Our AX Gift Vouchers allow anyone to experience any of the hotels and restaurants part of the AX Hotels family, including Luzzu Restaurant. Simply set your budget and let your special someone, friend or colleague enjoy a Mediterranean meal at Luzzu.
Book your spot today! T: +356 2158 4647